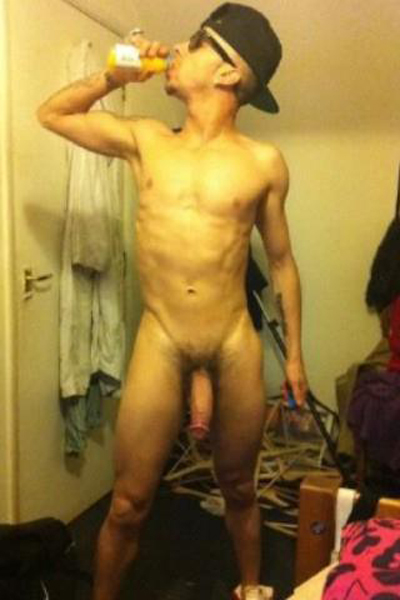 Dappy Dick Pic Surprises
Dappy was a member of the British rap group N-Dubz. Dappy penis is pretty impressive. It's like a really fat baby leg.
His mess of a room not so much. Seriously he couldn't clean that up a bit before he took this penis pic?
You can tell he made some effort to fluff it up a bit before taking the pic. As far as how the picture ended up release..well…that was no accident.
He released it himself in anticipation of a new single release, hoping the extra publicity would remind folk of his solo music efforts.
Well, it worked, his single 'No Regrets' debuted at No.1 on the UK charts.
Originally Dappy had his girlfriend claim responsibility for the pic release:
"Dappy wanted me to leak the photo of him, because, you know, people had leaked pictures of Chris Brown and Aston from JLS and they both had little winkle-pops, so he just felt he had to prove a point," Faye tells heat.

–

"People thought it was Photoshopped. They were saying that no way was his ding-dong that big. But why do you think I've stayed with him for so long?"
Yea. I guess; whatever it takes – right – to keep your name in the mouth of the masses. Let's just hope, should any other dong pictures leak Dappy takes the time to clean up his room beforehand.
For more celebrity dick pics read: 45 Celebrity Penis Pics You Gotta See to Believe.