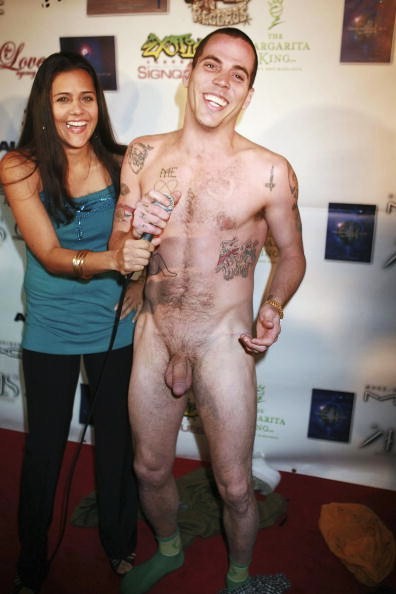 ---
---
Steve-O Dick On The Red Carpet
Steve-O takes his clothes off as he arrives at the Masters Players Ball Pre-Oscar Party on March 4, 2006, at the Key Club in West Hollywood, California.
Only Steve-O could do something like this and get away with it. It's not even remotely funny if someone else pulls this stunt. I'm not sure it was funny when he did either, though because of who he was at the time, not entirely unexpected.
In today's media climate there would be entire conversations about appropriateness and what not, considering he did this in front of a woman reporter. I'm assuming she didn't ask him to get naked, but she did. Who know.
I will say it takes a man of great confidence or one totally lacking in sobriety to put the twig and berries on display when they clearly aren't seeking any attention and are in their full resting slate. Considering it's Steve-O we're talking about I'm guessing it's more of the latter and much less of the former.
For more celebrity penis pics read: 45 Celebrity Penis Pics You Gotta See to Believe.
---