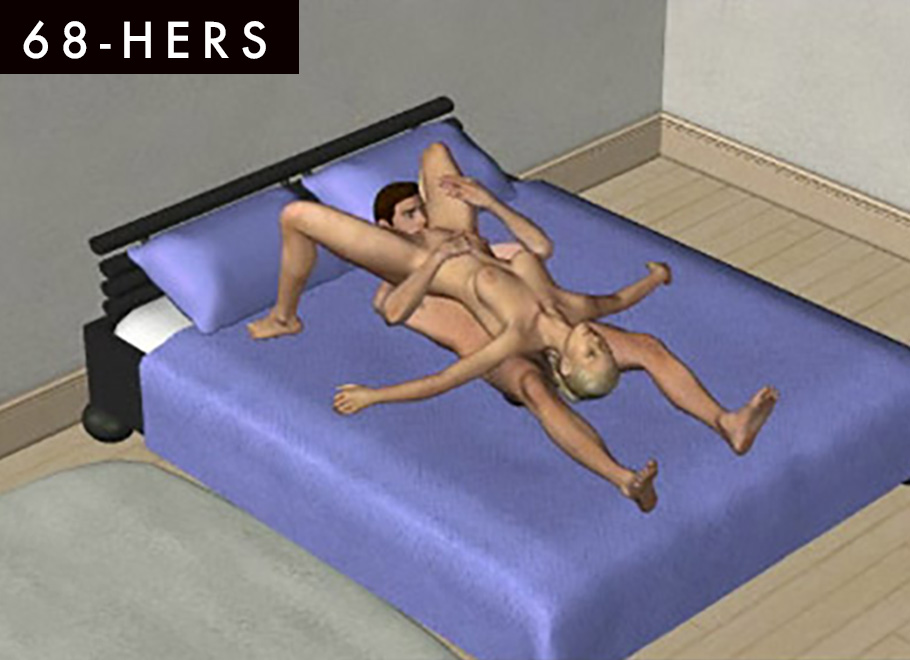 ---
68-Hers Erotic Instructions
---
I don't think this one needs a lot of explaining. But just in case: the 68-Hers sex position is one short of 69 for her.
This sex position involves one person lying on their back and the other lying on their chest, on top of the giver.
The person on top must then position themselves so that their head is resting between the giver's thighs and their genitals are positioned over their mouth.
In this position, the giver has full access to their partner's nether regions. While he/she's down there, they're in the perfect position to lick and suck whatever is near to their heart's content.
The position is great for both cunnilingus and analingus.
Why You'll Love It
It's oral sex, why wouldn't you love it. There's also a sense of freedom associated with this position. You're laid out in a way that screams "Take Me Now!" And who doesn't like that kind of power? Also, 68-Hers affords excellent opportunities for him to use his hands all over your body.
When the woman is on top, it means the guy's hands are free to roam wherever he likes and the girl can touch herself to heighten the experience.
The 68-Hers sex position is "perfect for its versatility and ability to enhance sexual exploration," as you are restricted with what you can do in a normal '69' maneuver.
Tips & Tricks
Scoot as close to his mouth as you can to take some of the tension off of his neck. Also, remember to put a pillow under your lover's head to reduce the neck strain.
And try not to relax too much, as you're the one on top and your body weight may get a little heavy for them after awhile.
More Cunnilingus Sex Positions
---
[the_ad id="45483″]