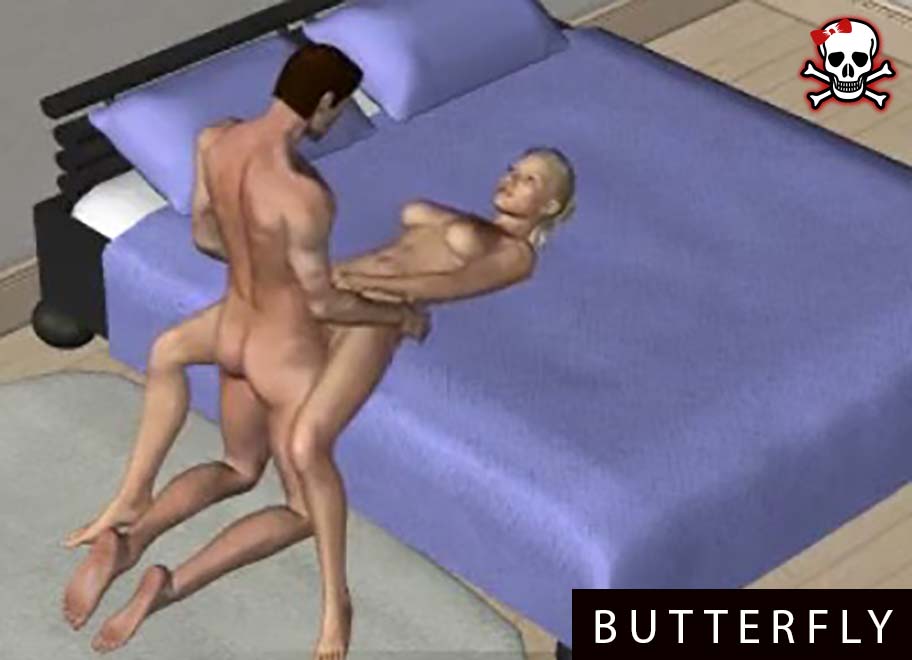 Butterfly Erotic Instructions
The Butterfly sex position is at the head of the butterfly family of sex positions. Its great for the edge of the bed, couch, or just about any edge for that matter. To get into this position, you should lay on your back on just about any edge big enough and plant your feet on the floor, while your guy stands or kneels between your legs.
The Butterfly position is great whether you are in bed or on a table. Performing the Butterfly is very easy for ladies or the recieving partner. There are a few really important things to keep in mind, though, to make sure you get the most out of this position.
You can perform it on a table or bed; it's up to you. Usually the man is standing, but he can also be on his knees if you are using a bed. You don't have to be that active when in the Butterfly position while your man will be doing most of the work. All you need to do is to lie back while your man lifts your hips upwards.
To switch things up you can rest your thighs on his chest and place your ankles over his shoulder. Alternatively, you can just put your legs on either side of his waist. My advice is just to do what you find to be most comfortable and pleasurable.
Why You'll Love It
If you're into deep penetration, the Butterfly sex position allows for plenty of it.
This position also allows for the primary partner to do a lot with his hands, so your clitoris can be manually stimulated, your breasts can be caressed, as well as you legs and thighs and the rest of your body.
When you are in the Butterfly, you simply need to lie down on your back, and either put your legs around your man's waist or instead allow them to rest on his chest and over his shoulders.
While you can be very passive and can let your man do everything, you may find that you get more pleasure by controlling how high your hips are raised. This is easiest when your legs are on his chest and over his shoulders.
Because your hips are raised, your man's penis will be in direct contact with the upper wall of your vagina, allowing him to directly stimulate your g-spot, which can lead to wonderful orgasms. You can also use your stomach (abdominals) to help keep your legs raised, but you'll find that they quickly tire.
Using pillows or cushions under your hips/waist is a very good idea. It means that your man won't get too tired from holding your legs up and you won't get tired from trying to keep them raised either.
I think that you will like the Butterfly for sex, especially if you are tired. This is because your man will have to do most of the work while you get to lie back and enjoy it.
Tips and Tricks
This position is very comfortable for both of ya'll, though a sex pillow under the knees could be useful for your guy if he will be kneeling the whole time.
Also a pillow can be added under your rear to adjust position and allow for different angles of penetration. If your man is on his knees, it might be a good idea to switch to a standing position so he can give his knees a rest.
To get maximum pleasure from this position and make it easier for your man to hit your g-spot, make sure that your hips are slightly higher than his. Keep adjusting how high you hold your hips until you find the right spot. Trust me; it's worth it!
More Butterfly Sex Positions
Mixed Butterfly Sex Position Guide
Pressed Butterfly Sex Position Guide
Standing Butterfly Sex Position Guide
---
[the_ad id="45483″]