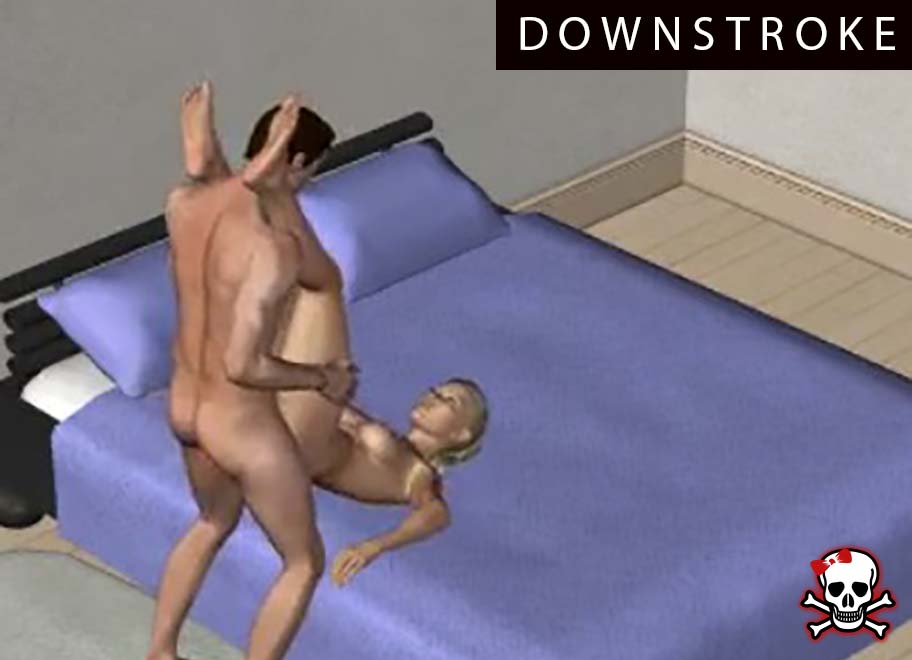 ---
Downstroke Erotic Instructions
---
A variation on Deep Impact, the Downstroke sex position is a good position for reaching the g-spot. You lie on your back with your legs resting on your guy's shoulders. The Downstroke sex position is similar to the Pile Driver sex position in many ways, but it's not as extreme as the Pile Driver which is one of the reasons why it's the more popular of the two positions.
One of the great things about the Downstroke is that your man provides a lot of stimulation to your G-Spot when he gets his thrusting right.
When performing the Downstroke, start by lying on your back on the edge of your bed or sofa with your legs raised in the air, pointing towards the ceiling like in the Deep Impact position while your man stands facing you.
Next, have your man grab your legs and pull you up and towards him so that he can enter you while standing up straight. When he lifts you up and towards him, he will be lifting your waist right off the bed so that only your upper back and shoulders and head are resting on the bed, so get in as comfortablea position as you can or the strain on your neck and shoulders will make Downstroke a very unpleasant experience.
From there he will use your legs as leverage as he thrusts in and out.  Be sure to communicate what is working for you and what isn't. This is a deep penetration position so things can get uncomfortable pretty quickly if you aren't careful.
Why You'll Love It
It's a great position for reaching the g-spot and if you like it deep then Downstroke is the position for you. When your man is holding you like this, you will find it tough to do a whole lot.
You will, however, be in a pretty good position to masturbate. Besides this, there really isn't much for you to do besides holding eye contact with your man and driving him wild with dirty talk.
Tips and Tricks
While not as intimate as Deep Impact, Downstroke does allow for a lot of caressing of your legs and with a little effort your torso as well. Try placing your feet flat on his chest to change the angle of penetration.
Don't allow your man to thrust too hard until he has found a way to hold onto you without hurting you.
The Downstroke is an excellent position for having anal sex in, which makes it much easier for you to finger yourself to orgasm or masturbate yourself during it.
Your man should do a little experimentation with how high he should stand until he finds a really good position that you both enjoy.
Other Butterfly Sex Positions
---
[the_ad id="45483″]