---
Lap Dance Erotic Instructions
---
The Lap Dance sex position is one of the highest rated; it puts you on top while keeping penetration mobility high and its rear entry while remaining very intimate.
To get into the position, your partner sits . It is also incredibly versatile, so make sure to experiment with it on other furniture… a few ideas to help get those creative juices flowing: a bed, stairs, or the edge of the bathtub.
Why You'll Love it
For women who like the deep penetration of rear entry positions combined with the control of Cowgirl positions, then you will love Lap Dance. It combines the best of both worlds leaving you and your partner breathless and ready for round two.
Tips and Tricks
Use your partner's thighs as support or try the position in a chair with arms to offer you some leverage. If their is a major height difference between you and your partner then a low sitting sofa, the edge of the tub or some other low piece of furniture is the best place to perform this position.
More Rear Entry Sex Positions
Bulldog
Booster Seat
Bumper Cars
---
Never Cum Early Again
---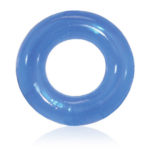 The Ring O is a super-safe super-stretchy cock ring designed to comfortably fit all sizes and stay snug during even the wildest sexual encounter.
The simple design keeps his erections stiff and strong, and by letting blood flow more slowly to the member, he'll stay harder longer and give him a powerful orgasmic release.
Just stretch the ring onto the base of the penis and watch it grow for longer-lasting, more satisfying sex for both partners. Are you ready to have your best orgasms ever?
Click here to buy the Ring O Cock Ring today.
---